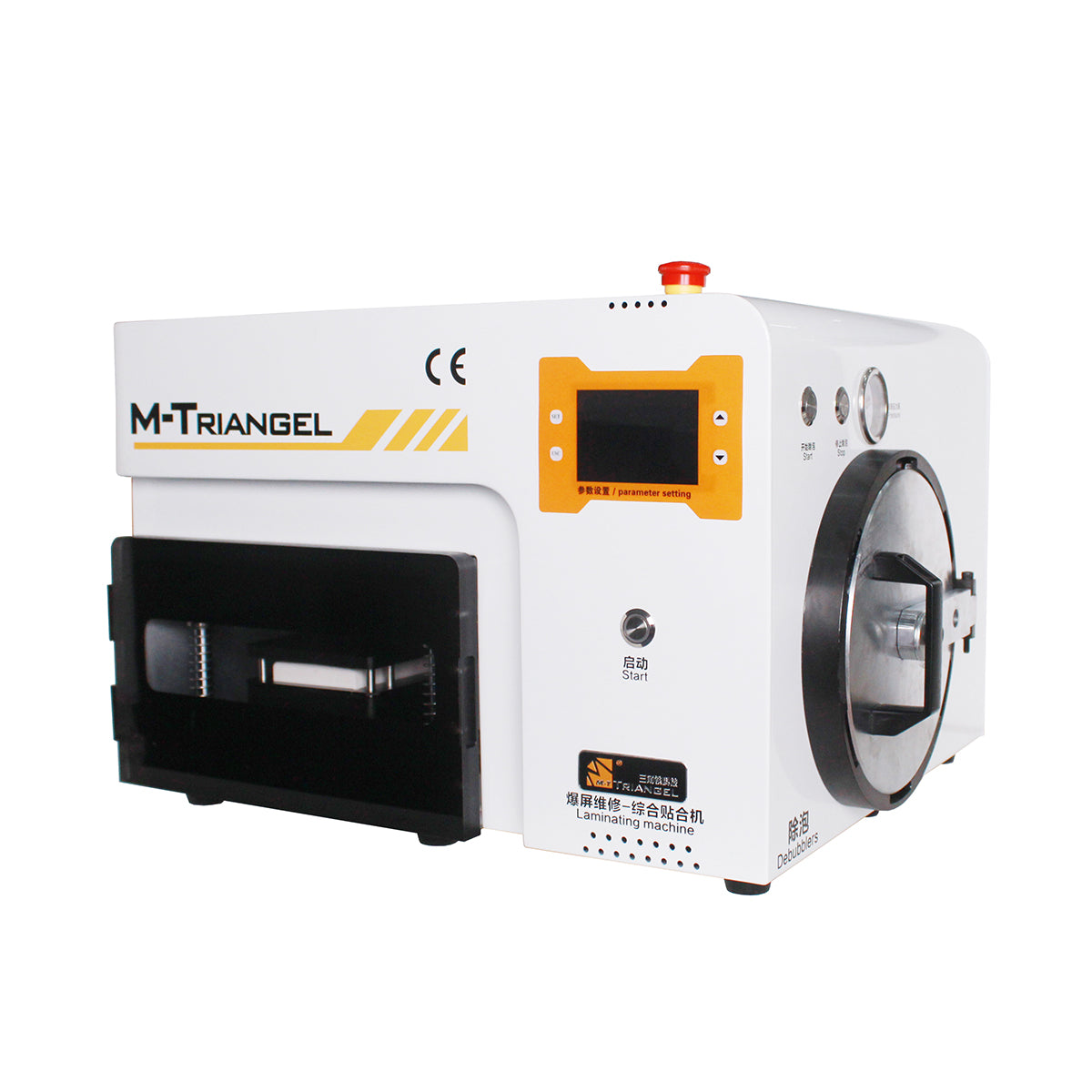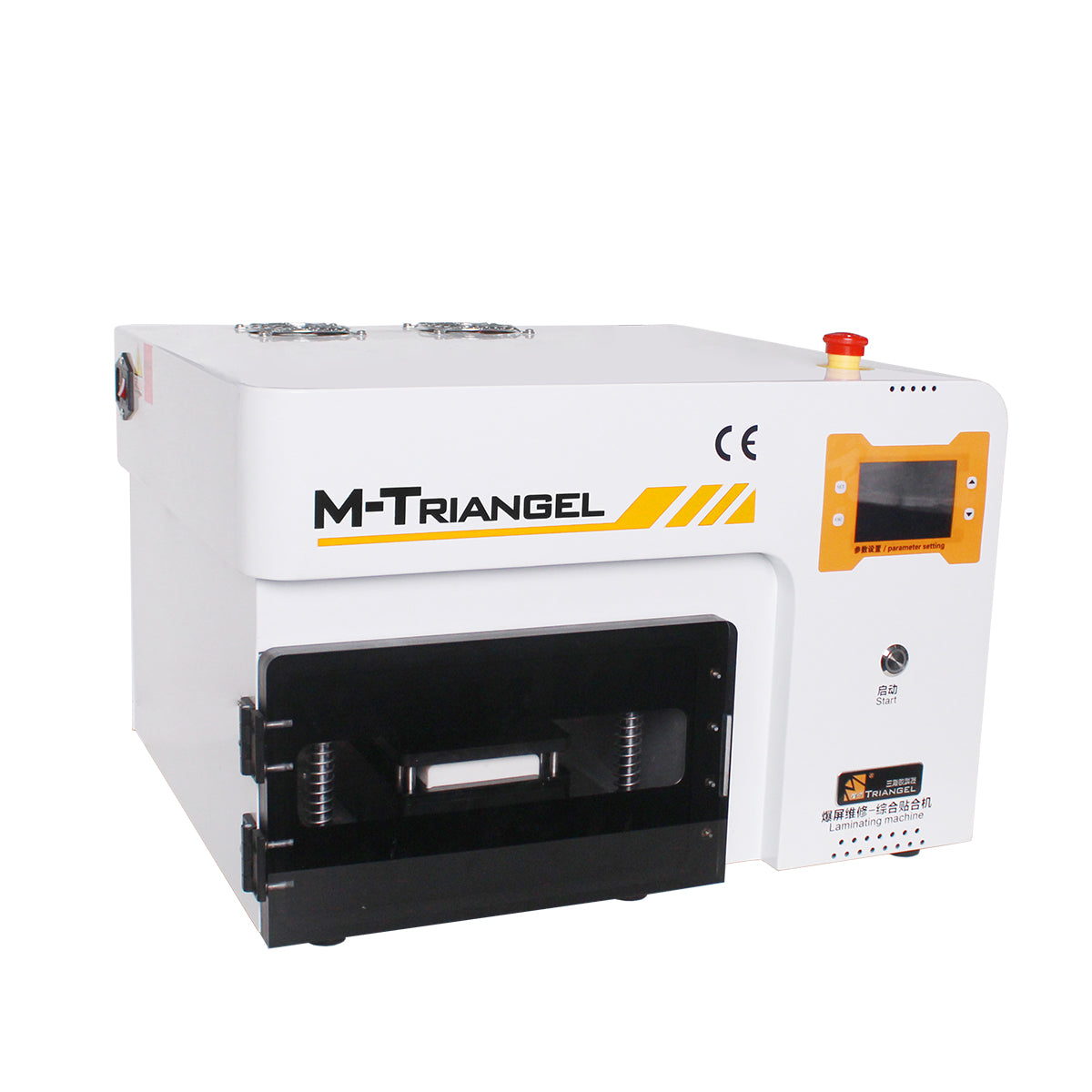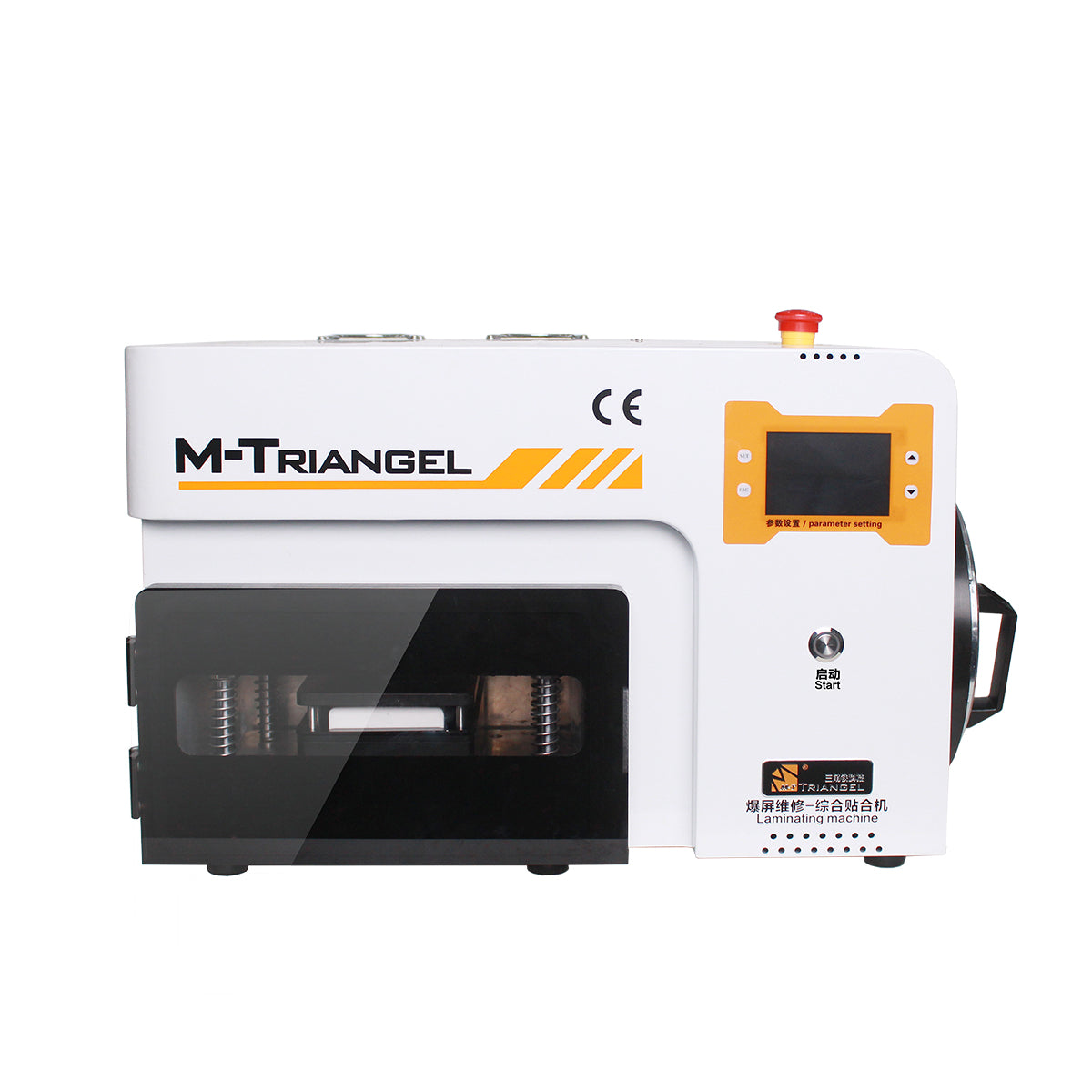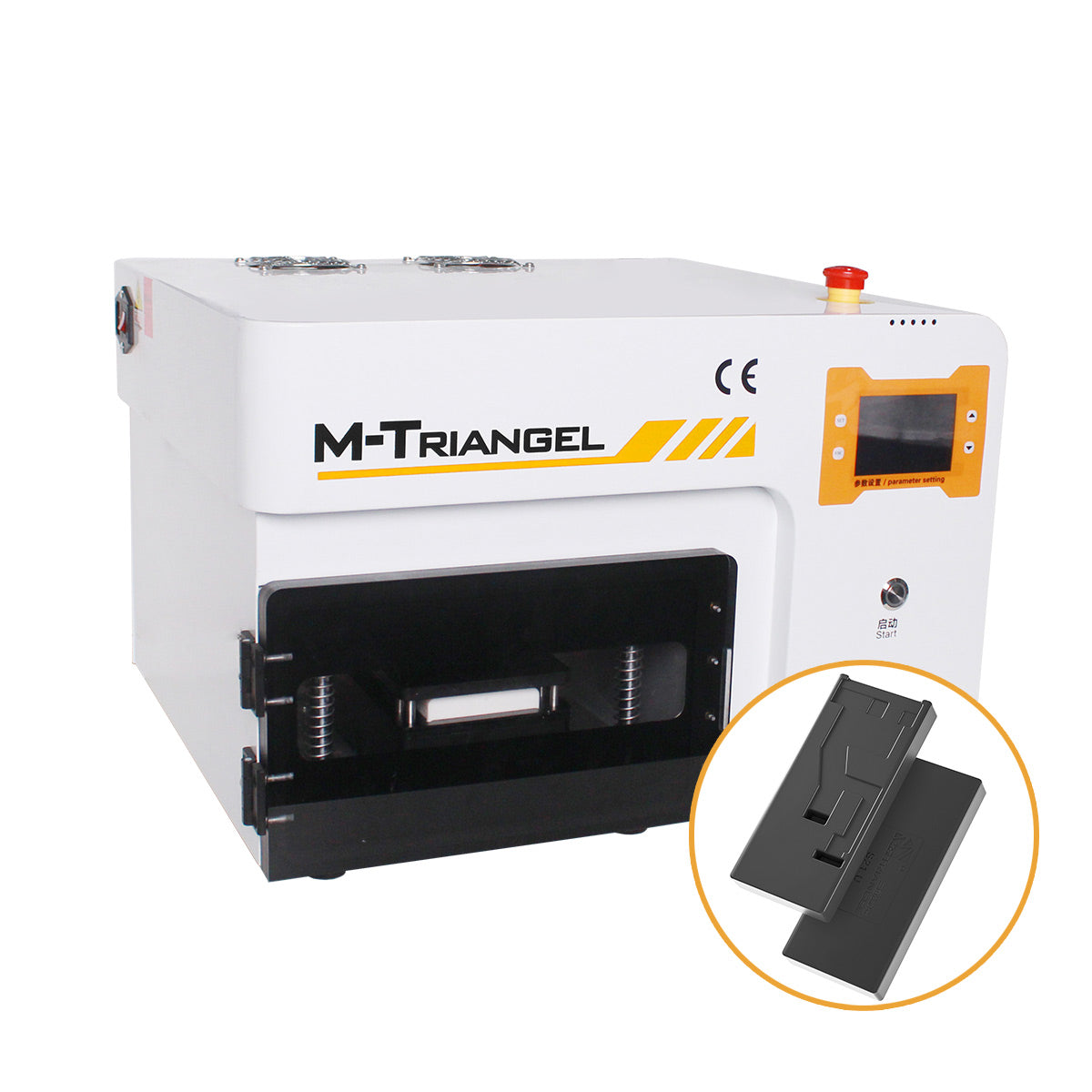 MT-103 OCA Vacuum Laminating Bubble Remove Machine 5-in-1
M-Triangel MT-103 OCA vacuum machine, which integrates LCD laminating, bubble removal, combination air compressor and vacuum pumps, it also comes with pressure toggle key switch, easy to set pressure adapted to repair flat and curved screens. MT-103 is the best vacuum oca lamination machine for 7-inch phone screen crack repair, supporting almost all cell phone brands such as iPhone, Samsung, Xiaomi, HTC, Motorola, VIVO, OPPO and other broken screen refurbishment.
Q: What is the difference between MT-102 and MT-103?
A: MT-103 supports metal molds and can switch pressure for curve LCD with one key
Note: metal molds is a optional item >>
Product Features:

Suitable for touch mobile phones screen within 9 inches (

including edge curved and flat LCD

)
5-in-1 all in one machine, built-in vacuum pump and air compressor
Newly designed hatch, more secure, easy to operate, one key start, touch panel system control.
Compatible with special mold for more precise alignment and more effective curved screen LCD repair
12 months warranty, online technical support and training is proved
Product Parameters:
Lamination type: curved surface, flat pressing

Production efficiency : 60s /4pcs (independent joint mode) an hour to 24PCS (defoaming assist mode)
Heating mode: constant temperature heating
Lamination time: suggest 60s

Lamination temperature: suggest 35-45℃

Defoaming time: suggest 10 minutes

Defoaming temperature: suggest 40℃

Lamination size: up to 9 inches LCD (20*16cm)
Equipment size: 570*420*360 mm
Cabin size: Deep 170 mm, Diameter 160 mm
Power supply: AC220V/110V 1500W
Equipment power: 800W
Net weight: 56.5KG

Shipping weight: 65KG
35 curve screen pads (optional): 
Samsung S8, S8+, S9, S9+, S10, S10+, S20, S20+, S20u, S21u, Note8, Note9, Note 10, Note 10+, Note20u,

Xiaomi CC9 Pro, 10 Pro, 11,

Huawei Nova7Pro/Honor 30, Nova8/V40 Lite, Nova8Pro/v40,  P30Pro,  P40Pro,  MT20Pro,  MT40,  MT40Pro,  RS Porsche

OPPO Fand X, Fand X2, Reno 3Pro,4Pro, Reno 5 Pro

VIVO NEX 3, X50 Pro

OnePlus 8 Pro, 7 Pro
Packing list:

1× MT-103 Laminating Bubble Remove Machine
2× sealing ring
2× Flat lamination pads
35× curve lamination mats (optional only)
1× MT-17s wooden case
1× Instruction manual
1-year warranty
Note: plug and voltage, we will adapt it according to your shipping address, if you have special requirements, please leave us a message.